Support us from £3/month
We deal with almost 1000 cases a year assisting communities, groups and individuals in protecting their local spaces and paths in all parts of England and Wales. Can you help us by joining as a member?
Clapham Common has again been left resembling a sea of mud following the latest huge music event.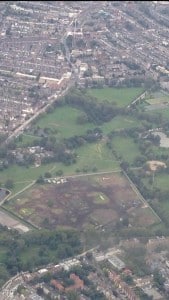 We are writing to Lambeth Council to protest.
A vast swathe of the common has again been devastated, only a year after the same area of the common was left like a quagmire by the same Lock N Load South West Four festival.
The council, which owns and manages the common, is already subject to severe criticism because it allowed enormous structures to be built on the common, which the society says require special permission from the Secretary of State for the Environment.
Lambeth is also being challenged over the size of areas of the common being enclosed for such major events. An enormous section of the common is still walled off more than a week after the end of the Lock N Load Festival on the August bank holiday weekend. There is a limit to the amount of the common that can lawfully be enclosed at any one time.
It is likely to take many weeks for the common to be restored to an acceptable condition, during which time it cannot be enjoyed by local people and visitors.
Our general secretary Kate Ashbrook commented: 'It is disgraceful that this flagship open space has again been turned into a sea of mud, only a year after it was devastated by the same event. I am worried that repeated abuse of Clapham Common is resulting in its degradation.'
The society's local correspondent Jeremy Clyne added: 'I was shocked to visit the common and find it has again been trashed. Local people are fed up with it. If Lambeth Council cannot look after open spaces in its charge those spaces should be taken out of the authority's control.'
The above aerial photo showing the damage was posted on Twitter on Monday by a local resident angry over damage to the common. Photos at ground level could only be taken through small gaps in the surrounding high wall as the area is sealed off.