Support us from £3/month
We deal with almost 1000 cases a year assisting communities, groups and individuals in protecting their local spaces and paths in all parts of England and Wales. Can you help us by joining as a member?
Seventy years after an Act of Parliament was passed creating national parks in England and Wales, five of the original campaigning organisations came together once again to pledge to protect and preserve the parks for future generations and make access for everyone easier.
Campaign for National Parks, Campaign to Protect Rural England (CPRE), the Open Spaces Society, the Ramblers and the YHA (England and Wales) made the pledge as part of a special day of 70th anniversary celebrations at Castleton in the Peak District last Friday.
The organisations have pledged to work together once again to make the 13 national parks of England and Wales more accessible, as well as to campaign for strengthened protections.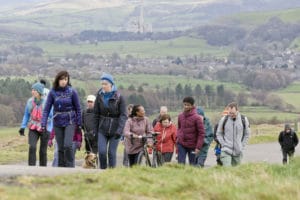 Despite their status, national parks face considerable threats from fracking, mining, quarrying, road building, military training and housing developments.  Additionally, there is the further challenge to make these beautiful areas of countryside accessible for everyone.
Says Kate Ashbrook, our general secretary: 'It is shameful that our most precious wild landscapes should still be under threat, 70 years after they were given the special protection for which we all fought.  It is time that government gave the parks the recognition and the resources they need to fulfil their amazing purposes for the benefit of all—and there is no better time to do this than in their seventieth-anniversary year.'
The creation of national parks in 1949 is recognised as one of the seminal achievements of the environmental movement from the past 100 years.  Today they attract around 100 million domestic and international visitors each year, contributing millions to the economy.
A stronger future for national parks: seventieth anniversary of the 1949 act pledge
We the undersigned pledge to continue campaigning for a stronger future for the national parks of England so that they remain just as beautiful for current and future generations to enjoy.
Our shared vision is that there will be more and better access to these landscapes so that they can benefit even more people, improving their health and wellbeing, as well as instilling a love for these special places.
We will work together to encourage and enable partners, businesses and our networks across the country to play their part in creating thriving national parks both for the people who live in them and those who visit.
Seventy years after the National Parks and Access to the Countryside (1949) Act, the incredible national parks face serious challenges including pressure from damaging major development, changes to land use practices, biodiversity loss and a lack of easy access for many.
The campaigners who fought to establish the parks came together to create one of the seminal environmental achievements of the past 100 years, which so many people love just as much today. To honour this legacy, we will work together to emulate this historic collaboration in the 21st century for the greater good of the national parks.
We hope that, in decades to come, this pledge will mean that future generations are still experiencing the beauty and wonder of our magical national parks.
Signed:
Janette Ward, chair, Campaign for National Parks
Crispin Truman, chief executive, CPRE
Kate Ashbrook, general secretary, Open Spaces Society
Vanessa Griffiths, chief executive, Ramblers
James Blake, chief executive, YHA