Support us from £3/month
We deal with almost 1000 cases a year assisting communities, groups and individuals in protecting their local spaces and paths in all parts of England and Wales. Can you help us by joining as a member?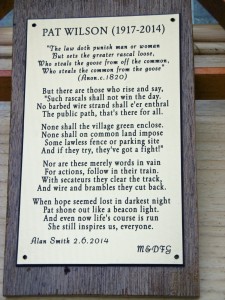 Meopham and District Footpaths Group in Kent have erected a plaque in memory of their president and our vice-president Pat Wilson.
The plaque is at Scratch Arse Corner (GR TQ 653 645), near Chandler's Hill, site of a path battle which led to the origin of the Meopham group.
An early fight, championed by Pat, was to reopen the heavily obstructed footpath here in the 1960s. This resulted in the formation of the group to survey and defend all the paths in and around the parish. It is thanks to their efforts that the paths are today in good order.
There is also a kissing-gate in memory of Pat which replaces a stile on the footpath which she walked many times between Meopham and her former home at Priestwood (TQ 647 652).