Support us from £3/month
We deal with almost 1000 cases a year assisting communities, groups and individuals in protecting their local spaces and paths in all parts of England and Wales. Can you help us by joining as a member?
We are delighted that a proposed planning application affecting rights of way at Crook in County Durham has been defeated. The proposal involved the change of use of a piece of land to private gardens and the consequent extinguishment under section 247 of the Highways Act of two sections of public right of way affected by the proposal.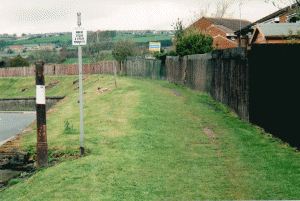 The purpose of the change was to counter alleged anti-social behaviour, despite there being no recent evidence that this was happening.
Loss of the paths would have deprived a huge number of people of the use of these pleasant paths which have good views and are away from traffic. The paths are in constant use for recreation, dog walkers, shoppers and as a direct route for people going about their daily lives.
Thanks to the hard work of the Open Spaces Society's representative, Jo Bird, local people in favour of keeping the paths open were galvanised into action and the council received 25 letters opposing the plans. Jo handed out leaflets to users of the paths, encouraging them to write to the council.
Jo says "If the paths had been extinguished, walkers would have been forced to follow a longer route on a busy roadside pavement instead of paths along the top of a bank, well away from the road. Many of the people I saw on the path felt defeated and thought it was a 'done deal', and I had to stress that it wasn't and to encourage them to write to oppose the application. I also encouraged them to attend the meeting, which several did. When the application was turned down at a packed meeting, we were overjoyed. It was almost unbelievable that we had won when the proposal had been supported by a local councillor. All the effort was well worthwhile."
The paths form part of a circular route which was opened several years back by the late Durham County Councillor, Bob Pendlebury.
Jo is to be congratulated on her determination to oppose the loss of these paths.