Support us from £3/month
We deal with almost 1000 cases a year assisting communities, groups and individuals in protecting their local spaces and paths in all parts of England and Wales. Can you help us by joining as a member?
We are delighted that NORFT Ltd has withdrawn its controversial plan to sacrifice Lyde Green Common near Pucklechurch, north-east of Bristol, and replace it with inferior land some distance away.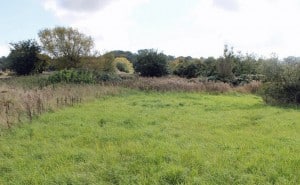 NORFT, the owner of the common, had applied to the Planning Inspectorate to deregister and exchange Lyde Green. The Open Spaces Society, Emersons Green Town Council and others objected. They considered that the proposed replacement land was of inferior quality to the common to be taken.
Says Chris Bloor, our local correspondent for South Gloucestershire: 'We congratulate NORFT Ltd for withdrawing its application. The common will become a major resource for those who will occupy the new housing surrounding it.
'We believe that the unpleasant fencing at the west end of the common should be removed to encourage use and enjoyment of the common for recreation.
'The new development in this area is massive and the common has never been more important as a green lung for the community. We are relieved that it is to remain intact.'