Support us from £3/month
We deal with almost 1000 cases a year assisting communities, groups and individuals in protecting their local spaces and paths in all parts of England and Wales. Can you help us by joining as a member?
We have objected to a further attempt to redevelop Valentine Farm in the Hambleden Valley. The site is near Skirmett, in the heart of the Chilterns Area of Outstanding Natural Beauty in Buckinghamshire.
The applicants, Mr and Mrs Neil Woodford, want to build a two-storey, five-bedroom 'Arts and Crafts'-style house, with garage store, detached leisure building and associated amenity space. They have tried in the past to make the site into an equestrian complex, but this was refused by Wycombe District Council.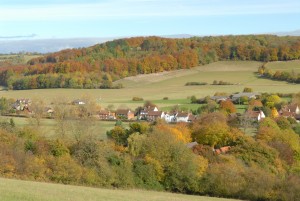 The proposed buildings, consisting of a large house with appendages, would be the equivalent of a new hamlet in open countryside. This is an unspoilt valley and the location is extremely sensitive, in the heart of the AONB. There is a network of public paths around and across the valley and the development would be visible from these routes and would be a carbuncle in the landscape.
A development of this size would be out of keeping with the intimate environment of Skirmett, and the design, pretentiously called Arts and Crafts, is contrary to the Chilterns Buildings Design Guide and would make it stand out rather than blend into the surroundings.
The nearby Shogmoor Lane, which is used by walkers, riders and cyclists to link to local paths, cannot safely accommodate the additional traffic which would be generated.
The proposal is a disaster and we have urged Wycombe District Council to reject it.  The Buckinghamshire, Milton Keynes and West Middlesex Ramblers have also objected.