Support us from £3/month
We deal with almost 1000 cases a year assisting communities, groups and individuals in protecting their local spaces and paths in all parts of England and Wales. Can you help us by joining as a member?
Over two days in mid August, 29 local correspondents, trustees and members of staff met at the Hillscourt conference centre, Rednall, on the edge of the Lickey Hills country park south-west of Birmingham.  It was an opportunity to swap experiences and ideas and to learn more about the range of activities in which the society is engaged, and in which local correspondents can get involved.
Topics for discussion included the following:
Deregulation Act 2015 and how to prepare for it
An update on restoring the record and applying for historic paths to be added to the definitive map before the 2026 cut off
Opportunities for more public access after Brexit
The HS2 project and its effect on public paths
Access rights on commons and sources of data about them
Village greens, local green space and neighbourhood plans
Improving access to public paths using the British Standard 5709 and National Land Access Centre
Encroachments on commons and how to tackle them
Achieving action in times of austerity
Public open space and country parks
Network Rail's assault on paths across railway lines.
We also had a useful session in which local correspondents could feed in to our developing strategic plan 2019–2024.
We enjoyed a pleasant walk on the Lickey Hills, led by Paul Brown, enjoying parts of the Squirrel and Bluebell Walks, with splendid views over south Birmingham and beyond.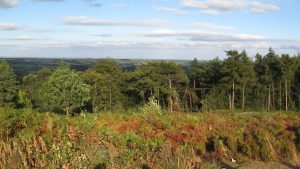 We greatly appreciate the work of our local correspondents and we know that they value the opportunity to get together, so we shall endeavour to organise another event before too long.
If you would like to consider becoming a local correspondent please look here to see what is involved.