Support us from £3/month
We deal with almost 1000 cases a year assisting communities, groups and individuals in protecting their local spaces and paths in all parts of England and Wales. Can you help us by joining as a member?
Maurice William Philpot was a good friend of the society, a member of our executive committee from 1982 to 1985, who gave the society a right of estovers on a Norfolk common. His friend of 20 years, Phyllis Mills pays tribute to him.
Maurice was born on 28 June 1942 and grew up in a cottage on the edge of Scole Common near Diss in south Norfolk. This probably gave him his love for open spaces,
His father was a teamsman (he worked the horses on the land) on the Thelveton Estate which allowed Maurice free range of the meadows around the estate, learning about living creatures.
Maurice thoroughly researched whatever took his interest, an asset when he became clerk to several parish councils. He could advise them on the law and on how and where to obtain grants, and he helped them with projects. The lasting memory of several charities, and parish and parochial church councils is that 'he kept us on the straight and narrow'.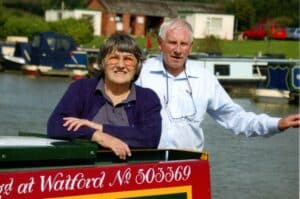 Village heritage
Burston village, near Diss, had lost interest in its Strike School, the reminder of the longest strike in English history (1914-39) when the children refused to go to the village school. Their teachers, the Higdons, had been dismissed because they opposed the farmers and parson who claimed to rule the village. Money came from many sources, including trade unions, to build the one-room school which stands on the little village green. Maurice worked to renew interest in this village heritage, and he helped to install a maypole on the green. In gratitude he was made an Honorary Citizen of Burston and Shimpling.
The project of which he was most proud is the creation of St Clements Common at Rushall. His friend, Daphne Buxton, who lived in a house called St Clements, owned land on which the village smithy once stood. For 20 years she had wondered what to do with it, wanting to secure its future. She confided in Maurice her childhood memory of Epping Forest being saved from massive encroachment by the existence of rights of common.
They researched how to create a common, and sought advice from the OSS. The first action was to choose an individual on whom to confer the rights of common. From her bed, Daphne, who was failing, selected Maurice. There were several rights to consider, but eventually they chose a right of estovers, to gather wood and bracken, since this would be of practical use to Maurice.
Maurice then set about registering the land as common; this proved to be a novel exercise for Norfolk County Council lawyers. Eventually it was registered and Daphne conveyed the land to the care of Dickleburgh and Rushall Parish Council. She lived long enough to know that her gift would be used for recreation and as a natural resource for everybody for ever.
Once a year Maurice exercised his right of estovers by visiting St Clements Common and bringing home a few fallen branches. However, by 2015 he knew the time had come to pass on his right and, as the OSS was celebrating its 150th anniversary that year, he was delighted to mark the event by presenting his right of estovers to the society.
Maurice's life of service ended on 11 February 2023. We shall remember him for his kindness, generosity, and strong sense of community.