Support us from £3/month
We deal with almost 1000 cases a year assisting communities, groups and individuals in protecting their local spaces and paths in all parts of England and Wales. Can you help us by joining as a member?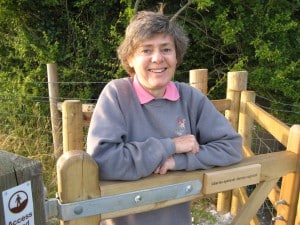 We are delighted that our general secretary, Kate Ashbrook, has been shortlisted as Outdoor Personality of the Year in
The Great Outdoors (TGO) Awards which are run annually by TGO magazine and voted for by members of the public.
Kate became general secretary of the society in 1984. A former member of the Countryside Agency board, she is President of the Ramblers, a trustee of the Campaign for National Parks and the Dartmoor Preservation Association and member of the Institute of Public Rights of Way and Access Management. She was a member of Natural England's stakeholder group on public rights of way, and is patron of the Walkers Are Welcome Towns Network.
The Ramblers' One Coast for All has been shortlisted in the environmental or access initiative of the year award. Throughout the campaign, the Ramblers have called on the government to make good its promise to create a path around England's coastline. The society heartily supports this initiative and is pleased to see it recognised on the shortlist.
We encourage our members, and other visitors to our website, to exercise their right to vote in support of these two outstanding contributors to the preservation and enjoyment of the great outdoors.