Support us from £3/month
We deal with almost 1000 cases a year assisting communities, groups and individuals in protecting their local spaces and paths in all parts of England and Wales. Can you help us by joining as a member?
We are delighted that the government has today (10 July) announced that the Isle of Wight will be included in the coastal-access provisions of Marine and Coastal Access Act 2009. The Act excludes from the coastal access process any island from which it is not possible to walk from the mainland. Such islands must be included by a special order.*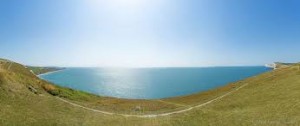 The Department for Environment, Food and Rural Affairs consulted on this in July 2012 and again in December 2013. On both occasions there was overwhelming support for an order to include the Isle of Wight in the scheme. Now it has resolved to make an order and agreed that Natural England should continue with its current priorities for coastal access up to 2020/21 and plan to include the Isle of Wight thereafter. We responded to both consultations, urging the minister to make the order to include the Island.
Says Kate Ashbrook, our general secretary: 'We have waited a long time for this result but it has been worth it. We are delighted that we now have the promise of access around the Island's 70 miles of coast. Currently walkers are forced inland on about 25 miles which is off-putting and unpleasant for residents and visitors. We need to secure a truly coastal route with adjoining access land so that walking around the island is pure pleasure.
'Coastal access will undoubtedly boost the Island's economy too. For example, the Wales Coast Path, which was opened in May 2012, has in a 12-month period, generated more than £32 million for the local economy.
'We give credit to the Ramblers and its Isle of Wight Area who have campaigned ceaselessly to achieve this on behalf of us all.'
Note
* The Marine and Coastal Access Act 2009 requires Natural England to establish a coastal path with adjoining accessible land (spreading room) where people may exercise rights of access, to explore, rest or picnic for example.
An order can be made to include an island on the grounds that 'the coast of the island is of sufficient length to enable the establishment of one or more long-distance routes along its length capable of affording the public an extensive journey on foot' (section 300(5) of the 2009 act).