If you love to roam the countryside on your horse, then you should join the Open Spaces Society.
We are experts on all types of public rights of way, including bridleways, and we can help you defend them when they are under threat.
We can help you claim a bridle path, remove a blockage, or lobby your highway authority.
We also have a network of dedicated volunteers known as local correspondents who can help you in your local area.
Protect your right to roam,

join us today

.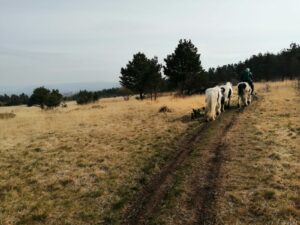 We have made a strong objection to plans to desecrate Kilvey Hill, east of Swansea. We have submitted our objection to Asbri Planning, acting for Swansea Skyline Ltd, which proposes to develop the hill and surrounding area with a leisure development.  This comprises, among other infrastructure, gondola stations, a multi-purpose visitor building, luge tracks, chairlift,…
Read More

→