Support us from £3/month
We deal with almost 1000 cases a year assisting communities, groups and individuals in protecting their local spaces and paths in all parts of England and Wales. Can you help us by joining as a member?
Do you want to know about the location of sites of special scientific interest, the distance between two places on a road or footpath, registered common land boundaries or to measure the area of a plot of land – we could go on? But the answer is almost certainly to be found in MAGIC. MAGIC stands for Multi-Agency Geographic Information for the Countryside, and it tries hard to live up to its name. The availability of data is best in England, but some resources cover Great Britain.
Natural England manage the MAGIC website under the direction of a steering group. It provides geographic information about the natural environment from across government. The information covers rural, urban, coastal and marine environments across Great Britain. It is presented in an interactive map which can be explored using the various mapping tools that are included.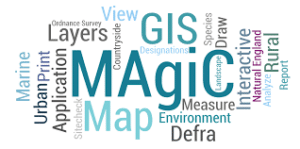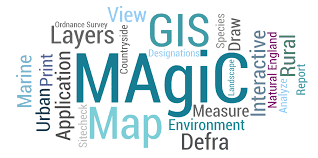 To find out more about MAGIC, visit the home page. To see an example, here's Grey's Green near our office location in Henley-on-Thames in Oxfordshire, showing Grey's Green and Shepherd's Green, two areas of registered common land (shown in green stipple), most of which is subject to a scheme for regulation and management of the commons made under Part I of the Commons Act 1899 (purple hatch, which obscures the green stipple). Try clicking on the 'identify' or 'information' tool on the toolbar just above the map, then click on any part of the common: a pop-up box will open, to tell you that the land is registered common land, register unit CL19, subject to the scheme for regulation and management, and that the land is in Oxfordshire, South Oxfordshire district, and Rotherfield Greys parish. Now that's what we call magic!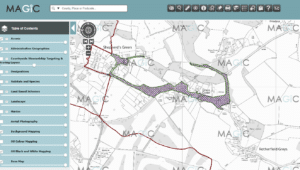 Just a word of warning. Town or village greens are available (under the heading, 'Access', select layer 'Village Greens circa 1994'), but only as approximate point locations shown by green circles. They are not entirely accurately placed, and the green circles will disappear at a scale greater than 1:26,000 (i.e. they will disappear at 1:25,000), to avoid giving the misleading impression of a precise location. Neither the greens nor the commons data have been updated for many years, but in practice, there have been few changes. But don't expect to see on MAGIC new town or village greens registered since the 1990s.
A few steps to get started:
Go to the Magic home page and click on Get Started
You can home in to a location by using the search box in the top left hand corner, but first, select whether you're searching by place or postcode, or by Ordnance Survey map co-ordinates or grid reference (you must use a two letter plus six digit grid reference, such as TQ123987)
You can also use the tools on the map itself to scale up or down, and you can drag the map to move location
Select the data sets you need using the Table of Contents on the left
In the Table of Contents, try to avoid selecting any of the high level check boxes because showing lots of data sets on the map gets confusing and may exceed the allowance for available layers
Instead, click on the drop down list (the + next to each contents category) and select those data sets which you want to display on the map
We find the following most helpful:
• Access — Village Greens circa 1994
— Registered Common Land (England)
— Countryside and Rights of Way Act, Section 15 Land (England)
• Administrative Geographies — Eurostat LAU/NUTS Boundaries — LAU1 Districts and Unitary Authorities (England and Wales)
— Other Administrative Boundaries — Parishes (GB)
Once you have any data sets selected, they display on the map (note: town or village greens will display only if the scale is set to 1:26,000 or less — e.g. 1:30,000). You can find out more about individual datasets by clicking on the Information icon next to each one. You can find out more about the dataset applying to a particular location by clicking on the 'identify' or 'information' tool on the toolbar just above the map, then on the map. For example, to find out in which parish a place is located, select the Parishes dataset, then click on the 'identify' tool, then on the map, and a pop-up box will name the parish (if there is one — some urban areas have no parish).
If you have enjoyed this article you may also find this one of interest:
Public access and rights of way guidance the Government doesn't want you to see