Support us from £3/month
We deal with almost 1000 cases a year assisting communities, groups and individuals in protecting their local spaces and paths in all parts of England and Wales. Can you help us by joining as a member?
We have condemned Henley Festival's u-turn on its location which is likely to result in the continued closure of the Thames Path National Trail during the festival in July.
The Festival had been planning to move from the traditional Regatta site downstream to the Henley Business School. Now it has decided to remain on the Regatta site.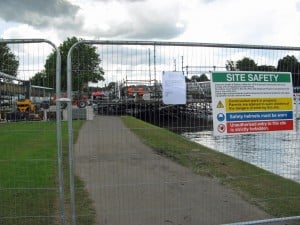 Every year the Festival has applied to Wokingham Borough Council, the highway authority, for the temporary closure of the path during the festival, and the Open Spaces Society, Remenham Parish Council, the Ramblers and others have objected because the closure is unnecessary. The organisations argue that the Festival should rearrange its activities to keep the path open.
Says Kate Ashbrook, our general secretary: 'We were delighted when we learned the Festival was to move to the business school, and are now dismayed that it has done a u-turn. We understand that the question of the public footpath didn't even enter the discussions with the Regatta. Yet the Thames Path is a national trail, of international importance, and should not just be shoved aside to suit the Festival.
'Instead, the Festival is apparently continuing to treat this path with contempt. However, there will be new negotiations with the regatta and we'd like to see the imposition of a condition on the Festival to work around the footpath and to keep it open throughout the Festival.
'The path is immensely popular, it's enjoyed by visitors from overseas as well as from this country, it brings income to Henley all the year round, and it should be kept on its true line beside the river.'