Support us from £3/month
We deal with almost 1000 cases a year assisting communities, groups and individuals in protecting their local spaces and paths in all parts of England and Wales. Can you help us by joining as a member?
We have objected to two applications from RES UK & Ireland Ltd for wind turbines and associated works on common land in Carmarthenshire.
RES wants to erect 21 wind turbines, 15 of them on common land, with met masts, access tracks, hardstanding, highway widening and fencing. The commons are Mynydd Llanllwni Common and Mynydd Llanfighangel Rhos-y-Corn Common, two prominent hills roughly ten miles south west of Lampeter.

RES needs the consent of the Minister of Environment and Sustainable Development, both for works on common land and to exchange some of the common affected. This is in addition to planning permission, which has been refused by Carmarthenshire Council and against which RES has appealed.
These commons are very special. They are in a quiet corner of Wales, and are immensely beautiful. Here people have rights to walk and ride, enjoying the fresh air and the views.
If the development were to go ahead, this would become an industrial site, and no one wants to walk or ride around a factory. The turbines would be an eyesore and would destroy the lovely views.
The development would tear the heart out of the common; the proposed exchange land is on the edge and is no substitute.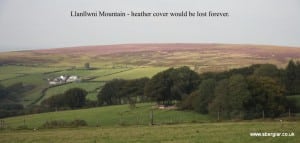 Says Kay Hamza, a farmer who runs a holiday-accommodation business on the north side of the mountain and is a member of the Open Spaces Society: 'It would be sacrilege to destroy our common, which has existed for hundreds of years. It is so wild and wonderful up there.
'Our holidaymakers often enthuse about the local landscape in the visitors' book. One wrote recently: "If this isn't heaven, what is?" It would be terrible to lose this bit of heaven.
'Our visitors also say that they will not wish to return if the common is desecrated with turbines—and that would be devastating to our fragile rural economy,' says Kay.
See the Save Mynydd Llanllwni website for further information.