Support us from £3/month
We deal with almost 1000 cases a year assisting communities, groups and individuals in protecting their local spaces and paths in all parts of England and Wales. Can you help us by joining as a member?
At the invitation of our member Henley-on-Thames Town Council our general secretary Kate Ashbrook spent part of our 150th birthday on Sunday meeting the judges of the Entente Florale European competition.  The council had entered for the award, having been nominated by a Britain in Bloom judge.
The ten judges came from all over Europe, and included landscape architects and tourism journalists.
Kate joined them at Jan Mirkowski's Fairmile Vineyard on the west side of Henley.  They travelled to the top in a trailer.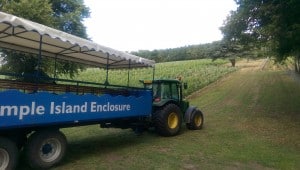 From the top there is a fine view towards Stonor, a typical Chiltern scene unmarred by development. Kate talked to the group about the importance of open spaces in and around Henley, the contribution of the Chilterns Area of Outstanding Natural Beauty on the town's doorstep, the Chilterns Commons Project which enables communities to recognise the value of their local commons and the network of public footpaths and bridleways which serve the town and its surrounding countryside.
She praised the town council for having voluntarily dedicated Gillotts Field as a village green in 2010, and footpath 32 last year, and she said that, in her dealings with local authorities, she rarely found any which were willing to initiate such dedications for the public benefit.
The judges had a number of questions, and then they headed back down the hill and off to their next engagement.  The council will hear whether it has won a gold, silver or bronze award on 18 September.