Support us from £3/month
We deal with almost 1000 cases a year assisting communities, groups and individuals in protecting their local spaces and paths in all parts of England and Wales. Can you help us by joining as a member?
We have objected to plans by the Harlequin Group to erect a telecommunications mast and associated development in open countryside in south Devon. The application will be determined by South Hams District Council.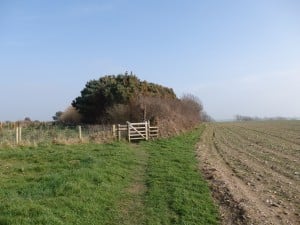 The 15-metre high mast would be close to the listed Houghton Farm, a mile north of Ringmore, near Bigbury. It would also overlook a network of public footpaths.
The development would be a severe eyesore in the designated South Devon Area of Outstanding Natural Beauty and would spoil the enjoyment of the many people who walk the footpaths close by.
The applicant has admitted that walkers using footpaths to the north of the site would have clear views of the whole installation. The mast in particular would be visible over a wide distance.
The South Hams are a mecca for walkers. The paths and lanes around Houghton Farm are popular. Many people use these paths to gain access to and from the South West Coast Path national trail. Walkers bring much-needed income to the rural economy and it would be short-sighted to allow a development which will clearly spoil their enjoyment, and might even deter them from visiting.
The narrow lanes and unclassified roads around the site are unsuitable for the traffic which would be necessary for the installation, and this would make life unpleasant, and possibly dangerous, for the walkers, horse-riders, cyclists and carriage-drivers who enjoy this quiet countryside.
We are not against such development provided it is sited sensitively, away from public paths, access land and areas designated for their landscape qualities. However, this proposal is unacceptable to us.