Support us from £3/month
We deal with almost 1000 cases a year assisting communities, groups and individuals in protecting their local spaces and paths in all parts of England and Wales. Can you help us by joining as a member?
We have opposed plans by the Secretary of State for Transport to stop up a 26-metre width of public highway adjacent to 94-102 Bell Street in Henley-on-Thames.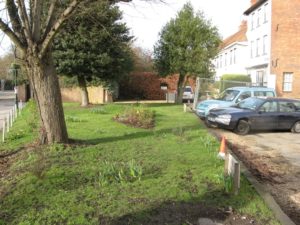 The proposed highway-closure is to enable Chesterton Commercial to construct parking spaces here. We were among the objectors to the plans for car parking on the green space, which South Oxfordshire District Council approved last July.
We don't consider it necessary to stop up the highway merely to park cars here. We do not anticipate permanent parking on this land and it is wrong to close a public highway, and deny people their right to use it, purely for private gain.
This is a pleasant, leafy corner of Henley, it is a small green space and a crucial element in the attractive townscape. It should not be reduced or despoiled by permanently parked cars.
So we hope the transport secretary will decide not to close this public highway.