Support us from £3/month
We deal with almost 1000 cases a year assisting communities, groups and individuals in protecting their local spaces and paths in all parts of England and Wales. Can you help us by joining as a member?
The singular determination of a Yorkshire woman to inspire her local community and return a memorial garden to its former glory has been celebrated in the inaugural Open Space Award.
Judges have awarded Jade Smith a commendation for her extraordinary contribution to Royd Regeneration, a community-driven project in Mytholmroyd, West Yorkshire.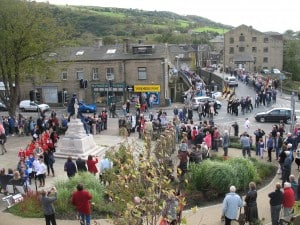 Royd Regeneration was one of four projects shortlisted for the Open Space Award 2012. While it was pipped to the post by The Bishop's Meadow Trust, in Surrey, judges were keen to recognise Jade's individual contribution. Jade's commendation was announced at the society's AGM on Tuesday 10 July.
Jade, aged 51, said: "It's wonderful, I feel very proud and humbled. In these days of money making and celebrity pizzazz, service to a community and old fashioned community spirit is not lauded in the way it once was.
"It is an honour for me to serve the community in Mytholmroyd, a place where people quietly get on with life and still enjoy traditional pastimes."
Jade, who suffers with the debilitating condition Fibromyalgia, was spurred into action in August 2008, after hearing people complain about the state of the memorial garden. She set about raising £125,000 and involved almost every branch of the community to give the space a new lease of life.
She made weekly visits to the local youth club to involve youngsters in the project and they helped design the refurbished garden and installed their own memorial bench in honour of a young friend who had passed away. Jade also helped establish a choir involving all three local schools during the life of the regeneration project.
The inspiring individual spent hours talking to people with disabilities to improve their access to the gardens and, with the help of fellow residents, produced a commemorative book featuring photographs of the servicemen and women the garden was created to remember.
Jade said: "I couldn't have done it without the young people – they engaged with me as much as I with them. To this day there is not so much as a mark in that garden and that is both a dedication to my work and a testament to them, I'm so proud of them."
The Open Space Award was launched this year to celebrate the efforts of those who protect, increase, enhance and champion common land, town and village greens, open spaces and public rights of way.
Tim Crowther, OSS chairman and a member of the judging panel, said: "Jade is an inspiration to us all. What she achieved in Mytholmroyd is exactly the kind of campaign the OSS wishes to promote.
"Almost single-handedly Jade managed to involve everyone in the community, raise a significant amount of money and get people working together on a really heart-warming project. Vitally, she has restored and revived this precious open space for all residents and visitors to enjoy," he added.